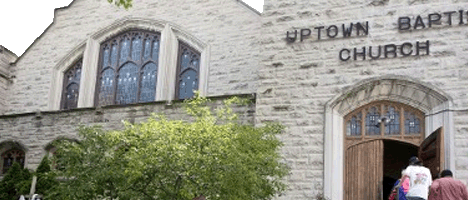 Uptown Baptist Church, is a multi-cultural, multi-ethnic, multi-lingual church on the corner of Sheridan & Wilson. With the 10-15 different ethnic groups that might be represented on a Sunday morning I think it would have to make it one of the most diverse churches in Chicago if not the country. With many language congregations started at the church such as Hmong, Cambodian, Vietnamese, and Eritrean.
Starting out meeting in the home of Rev. James Queen in 1976 they moved into a warehouse space later that year. By 1979 they began renting the building they have now for monthly community Praise Meetings. Soon they wanted to buy this building but they previous owners had no intention of doing so. UBC acquired this building in March of 1981 and dedicated it on Sept. 27, 1981.
Uptown Baptist Church has and continues to be heavily involved in the Uptown Community.
Where involved with the starting of REST Shelter which the woman's

Interim Housing

continues to this day at their facilities.
through UBC in arts painted several murals on walls around Uptown
Led a successful "Vote Dry" campaign
Uptown Food for Families -food pantry every 3rd Wednesday 9am-11am
Community Fellowship Dinner -Mondays 4:45PM -300-500 people served every monday
You can find and listen to Uptown Baptist's sermon at
here
: